"We're at capacity, there's nowhere to grow," president Jules Griffith said. "We're knocking back kids who are really keen to play, but our stadiums are full."
The association's roughly 3,000 members play for eight clubs in under-10 to senior competitions and include children from about 1,000 inner-west families. It is supported by up to 200 volunteers.
Griffith said if a new stadium wasn't built soon, basketball, futsal, volleyball and netball players would need to leave the inner-west to play youth sport or not play at all.
In 2018, the council identified a need for up to 12 new indoor courts by 2036 to satisfy the needs of a growing population that is expected to double to 30,000 people by 2041.
"The game is growing, especially in the western suburbs of Melbourne," Giddey, who last year signed a four-year contract with the Oklahoma City Thunder worth $US27.2 million ($38.18 million), told The Sunday Age.
"[And] the western suburbs are probably the one part of the city that doesn't have [as many] stadiums as the other side of the city has. Having a big arena right there in the west is such an important thing for kids."
Giddey said the parkland was big enough to accommodate dog walkers and a stadium.
On Saturday morning, Westgate's Braybrook courts were teeming with young basketball players, dribbling, passing and sinking shots.
For many of them it's an escape from the troubles of teenage life or difficulties at home.
Thirteen-year-old Gen Giles Knopp, who plays for the Westside under 16s, said basketball could lift her spirits in a way that nothing much else could.
"I'm a very sad person," she said. "It just makes me very happy to be able to go to places and try to play basketball."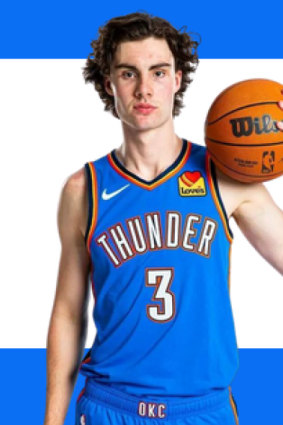 Youth organization the Les Twentyman Foundation runs the 96ers basketball club. Youth worker Tekani Perry said many of the children came from families with financial issues, domestic violence or other stresses.
Juliz Stephenson, a 17-year-old who plays for the 96ers under 19s, said basketball was the most important thing in her life.
"I don't have to think about all the other things going on, but I can just focus on this thing and get away from everything else," she said.
The council has stated in its material that a dog park will be included in any new plans for the reserve.
It previously said that an indoor stadium at McIvor Reserve was only "an idea, not a proposal" and that it was gathering feedback from people who use the park before making any further decisions.
The Morning Edition newsletter is our guide to the day's most important and interesting stories, analysis and insights. Sign up here.