"I will not stand by and allow the same to happen to us between Brisbane and the Sunshine Coast."
He said traffic congestion was a "Brisbane CBD problem" and needs a new way of thinking.
"The mapping that was released with this report shows us all exactly what Brisbane's challenge is: it's their CBD," Cr Flannery said.
"Ace [transport expert] Professor Matthew Burke said after this plan was released: 'There are no regional job centers outside of Brisbane's CBD, and there aren't any plans for it'."
Moreton's answer is to create regional job centers outside the Brisbane CBD, Flannery said.
It's a similar approach tried by Ipswich and Gold Coast – and to a lesser extent – ​​Logan councils.
Moreton is calling it the "polycentric city" approach.
The state government's recent Caboolture West interim development plan proposes specific job-generating districts.
"A polycentric city is made up of a web of smaller centres, with high connectivity between commercial and residential precincts, Flannery said.
"It means you can work closer to home, which means less time spent in traffic."
loading
His argument is by planning early, congestion can be reduced.
"That includes consideration for public transport in planning, specifically public transport mode-share," he said.
"That includes building an entirely new Bruce Highway to the west, so people in Caboolture and Morayfield and Petrie aren't all forced into the existing congestion."
Unfortunately, as RMIT urban policy professor Jago Dodson identified recently, the proposed Caboolture West does not have a rail link.
Meanwhile, a Chermside business group, who used 2017 census data to propose three blocks of Gympie Road around Westfield Chermside become a tunnel to address congestion problems welcomed proposals for both road and rail corridors through Brisbane's north-west corridor.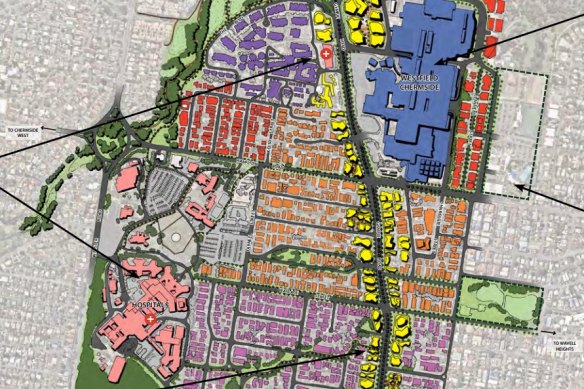 On Saturday, a new underground rail station at Chermside was revealed as part of a proposed underground eastern corridor link to Carseldine.
Suburban Futures director Steve de Nys said there needs to be greater emphasis on suburbs and regional centers as jobs-growth centers.
"We believe that rather than being considered as the 'dormitory' for the city, the suburbs should be repositioned as the 'engine room' and receive appropriate attention through policy and investment," de Nys said.
"The pandemic has shown how important the suburbs are to the economic and wellbeing of a city."
"This proposal for north Brisbane is not just a transport solution but the opportunity to facilitate the revitalization and renewal of suburbs that have long been ignored."
Their report identified that in Nundah a decade ago $55 million in traffic design led to about $800 million in new private investment to transform the Nundah community.