House prices have fallen by more than $100,000 in three months in parts of the country as rising interest rates reduce borrowing power and accelerate price declines.
Six-figure sums were wiped from median house prices in Sydney's north shore, northern beaches and inner west, as well as Melbourne's inner east, in the June quarter, Domain data shows.
Prices in parts of Brisbane, Hobart and regional NSW also pulled back more than $50,000. The median house price for the capital cities combined fell by less than $10,000 by comparison.
The sizable price falls came after the Reserve Bank began lifting the cash rate from a record low of 0.1 per cent in May. The declines are expected to spread, with a fourth consecutive rate hike on Tuesday, increasing the rate to 1.85 per cent.
READMORE: Real estate agency sprung "bragging" about a $225 per week price hike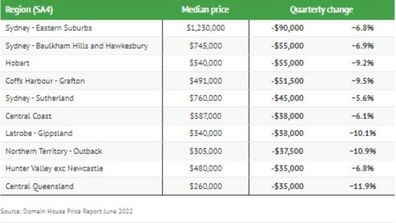 Domain chief of research and economics Dr Nicola Powell said the cash rate increases had accelerated the slowdown, which was initially driven by an increased supply of homes for sale, affordability constraints, rising fixed-rate home loans and an increase to the interest rate serviceability buffer .
"Borrowing capacity has been eroded by higher rates and a higher cost of living … and there's more to come in terms of a further acceleration in a deterioration in prices," she said.
Median prices in premium markets had lost the most value, Powell said, which was to be expected, as the upper end typically led upswings and downturns.
In Sydney, prices dropped $250,000 in the north Sydney and Hornsby region, $200,000 in the inner west and $187,500 on the northern beaches. Prices in eastern suburbs held steady at median of $3.45 million but were down $200,000 year on year, due to price weakness in previous quarters.
House prices in Melbourne's inner east dropped $107,500, while the median in Brisbane's west fell $50,000.
READMORE: French manor set to break Queensland record with $35 million sale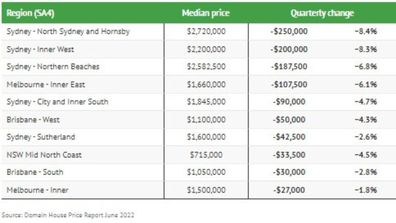 Sydney's eastern suburbs and the Baulkham Hills and Hawkesbury region led unit declines in dollar terms, down $90,000 and $55,000. Prices also dropped more than $55,000 in Hobart and the Coffs Harbor and Grafton region.
Powell said price declines would continue to spread. The full impact of rate hikes had yet to be seen, and buyer demand would be further tested by an expected increase in homes for sale in spring.
Home buyer lending pulled back in June after the second cash-rate rise. The value of new owner-occupier loans dropped 3.3 per cent, and was 9.6 per cent lower than a year ago, Australian Bureau of Statistics figures released on Tuesday show.
Lending to first home buyers fell 10 per cent and was down 29 per cent year on year, while investor lending fell 6.3 per cent in June but was up 17.3 per cent over the year.
Westpac senior economist Matthew Hassan said the impact of rising rates in an already cooling market had been rapid. Areas with higher property prices had been most sensitive to increases, but the slowdown in prices was spreading and the full impact had yet to be seen.
READMORE: New Cartier-inspired $159 million super yacht is a dazzling gem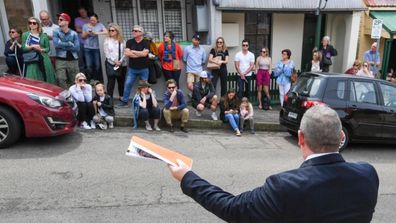 Hassan expects the cash rate to peak at 3.35 per cent in February, and property prices nationally to decline 16 per cent from peak to trough, with Sydney and Melbourne to see falls closer to 18 per cent. Hobart and regional areas that had unprecedented growth throughout the pandemic, partly based on temporary shifts in population, may also be in for a hard landing.
Hassan said most households had substantial savings buffers that would put them in good stead to handle higher mortgage repayments. However, it would be a delicate balance for the RBA to slow demand and inflation while not triggering widespread problems for the housing sector.
Raine & Horne Lower North Shore partner Alex Banning said prices were correcting after a period of enormous growth and markets that had higher price rises had further to fall.
"The RBA gave people false hope when they said rates weren't going to go up until 2023, 2024, so a lot of people just out took big loans… we saw exponential growth."
The market had swung from one extreme to the other, he said. While prices were lower, most buyers were still having to compromise due to their reduced borrowing power.
READMORE: Sydney's own waterfront castle could be yours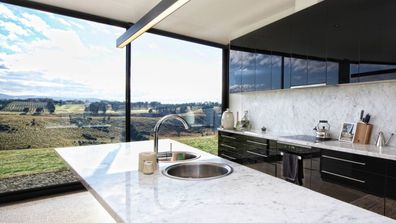 Shore Financial senior credit advisor Greg Bishop was seeing more clients put plans to purchase on hold.
"No one really knows where the market is going to end up," he said. "Prices have backed off … which is good for a lot of buyers, but they're also facing increasing interest rates."
Some lenders were honoring existing pre-approvals, Bishop said, as long as there was no critical credit change such as an increase in the loan to value ratio. Others were reducing borrowing capacity for pre-approved clients.
He urged those with pre-approval to check with their lender before purchasing a home as some buyers were finding out afterwards that their new borrowing power had fallen short.
This story first appeared on The Sydney Morning Herald