Biel and Lynskey are both utterly compelling, and the faithful period detail of the production and wardrobe design give things a slightly elevated and unsettling feel. It comes as little surprise to learn that director Michael Upendahl, who sets the tone in the first and last episodes, has done some American Horror Story and Fargo (as well as Mad Men).
With Raul Esparza as an outsized attorney, and Justin Timberlake as one of the sheriff's deputies on the case, it all adds up to some riveting real-life horror.
Defending the Guilty ★★★★
stand*
There's nothing like a dark, memoir-based British comedy for exposing the sandy foundations of our professions and institutions. Whether it be Daniel Radcliffe doing Russian medicine circa 1917 in A Young Doctor's Notebook (Stan) or Ben Whishaw doing the modern NHS in This Is Going to Hurt (Foxtel, Binge), it's a proper laugh and a bit of a worry.
So too this sharp and salty series based on British lawyer Alex McBride's memoir of his sometimes excruciating experience as a trainee or "pupil" barrister. The central figure is put-upon dork Will (Will Sharpe), the pupil of cynical older barrister Caroline (the marvelous Katherine Parkinson), who torments him by calling him "Baby Boy" and herself "Mummy". As Caroline defends and occasionally prosecutes colorful characters charged with various crimes, Will learns painful lessons about human nature, both in court and in his cutthroat competition with the three other pupils vying for the one job. The casting is perfect across the board as McBride and cuckoo creator Kieron Quirke quickly establish a captivating little world of horsehair wigs and acerbic repartee.
Thirteen Lives
Prime Video, from Friday, August 5
Ron Howard's Gold Coast-shot movie about the extraordinary rescue of a teenage soccer team from a flooded cave system in Thailand in 2018 might initially seem redundant to viewers who've seen the gripping documentary series The Rescue (Disney+). But it doesn't take long for the audacious, desperate brilliance of the operation to captivate all over again. Colin Farrell and Viggo Mortensen dial themselves down superbly as British divers John Volanthen and Rick Stanton, as does Joel Edgerton as Australian diver and anaesthetist Richard Harris.
Reservation Dogs (new season)
binge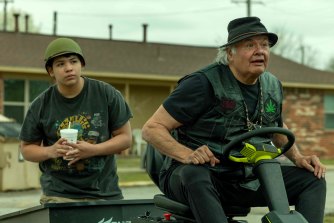 The poignant and fiercely funny Native American comedy created by Sterlin Harjo and Taika Waititi has returned at its unpredictable and ebullient best. Perhaps nowhere has the crowded coexistence of ancient and modern cultures been better illustrated than by old-timer Uncle Brownie (Gary Farmer) trying to improvise an authentic old-time ceremony but veering off into Tom Petty's Free fallin'. The kids are on their own journeys, with Elora and Jackie (Devery Jacobs and Elva Guerra) on the road and the others staying on the reservation.
I Love That for You
Paramount+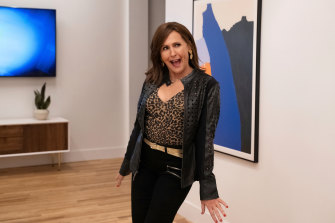 In real life Vanessa Bayer survived childhood leukemia. In her wickedly funny comedy series she plays an aspiring TV shopping channel host who lies that her childhood cancer has returned so she can keep her job. She's an absolute treat too as her character de ella suffers a little less conflict than even she might have hoped in embracing her own awful lie de ella. Saturday night Live veteran Bayer more than holds her own opposite the particularly wonderful Molly Shannon and Jenifer Lewis. A dark treat.
William S. Burroughs: A Man in Full
docplay
William S. Burroughs remained in many ways a closed and enigmatic figure long after his stunningly original writing expanded the scope of literature and cultural conversation by placing gritty realities of homosexuality and drug addiction in the spotlight for the first time. This poignant biography has friends, lovers and biographers piece together a portrait of a man who was famously a mentor and inspiration to Jack Kerouac, Allen Ginsberg and countless others down the decades, but was far more vulnerable and wounded than many will have suspected.
* Stan is owned by Nine, the owner of this masthead.
Find out the next TV, streaming series and movies to add to your must-sees. Get The Watchlist delivered every Thursday.