The Australian team, nicknamed the Kookaburras, scored 29 goals through their undefeated pool stage, adding another 10 in the two final appearances.
In a fierce midday sun at the University of Birmingham complex, the Kookaburras blitzed the opening half and put five goals in past the Indian defenders, leaving the number four-ranked team in the world shellshocked and unable to recover, losing 7-0.
Blake Govers' scintillating form in front of goal in this competition continued, scoring his seventh in the opening minutes in a powerful conversion from a penalty corners.
Jacob Anderson (2 goals), Nathan Ephraums (2) and Tim Wickham all joined in to put the result beyond doubt. Flynn Ogilvie scored his first goal of the tournament in the final term.
The talented Indian side was dealt a killer blow when they lost their skipper Manpreet Singh in the second quarter in a heavy clash with Australian skipper Aran Zalewski. Singh left the field with a collarbone injury and the Kookaburras made the most of his absence from him.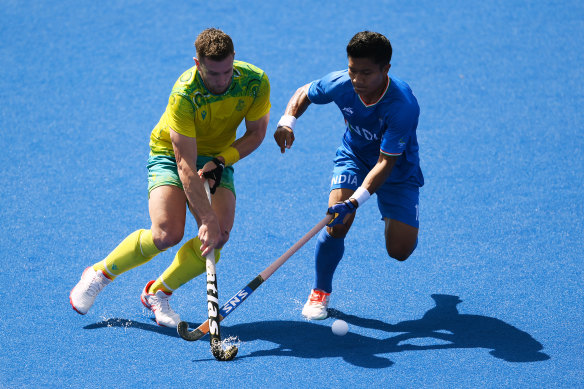 A large Aussie contingent in the packed stands started singing Waltzing Matilda in the final moments with the result helping to subside the heartbreak of a penalty shootout loss in the Olympic final against Belgium last year.
"It has been incredible," Ockenden said.
"You won't find anything else in your life that you can do so passionately. To be able to play hockey for so long and do what I've been able to do, I have been very lucky."
Co-captain Aran Zalewski said the Kookaburras were building a "great dynasty".
The 31-year-old, who grew up in Margaret River south of Perth, scored three goals in the competition and has been ever-present for the Kookaburras in their biggest tournaments since late 2013.
"We're really proud of the history we have," Zalewski said. "Every team that comes is a different team (but) we know we have to come out and perform. We enjoy it and we pride ourselves on performing well here."
He said Ockenden was "still looking like a spring chicken" in a team where competition for a spot in the starting line-up is fierce in the build-up to next year's World Cup.
"We can draw on so many experiences he's had…highs, lows, things that are indifferent. Just having someone that's so calm under pressure, he is a humble guy and a fell gooda".
Nursing his arm in a sling, Indian captain Manpreet Singh said Australia's attacking pressure didn't allow his team to play their own game.
"This was not the result we wanted. A good fight, a closer result… then we would be happy, but this is not the result we wanted. We could have done something more, we could have created more opportunity, but we didn't play our best game," Singh said.
"This is the best hockey in the world, they are one of the best teams in the world. You can't make mistakes against these kind of teams."
Sports news, results and expert commentary. Sign up for our Sport newsletter.