The facility includes a multi-lane swimming pool (with a custom-made Wests Tigers logo mosaic), ice bath and heated bath for recovery and rehabilitation. There's also a steam room and sauna.
The gym, arguably the biggest of all NRL clubs, also includes a wrestling arena and a mini-scaled league field for team walkthroughs.
The facility will be home to both the football department and the club's administration.
The NRL head coaches office, which currently has Sheens' name tag and mug on the desk, overlooks the gym.
There's also a theater, sleeping room, mental health hub, barbecue area, juice bar and barber included in the facility.
The club has also paid tribute to the history of both Balmain and Western Suburbs, erecting a walk of fame with the greatest players from the Tigers and Magpies on display through the corridors.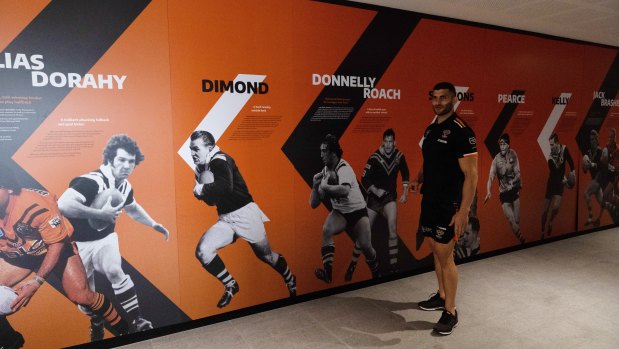 The second stage of the complex is still under construction but will include multi-purpose sports courts for basketball, netball and indoor soccer.
Pascoe has copped the brunt of criticism in regards to the team's on-field performances under his rein.
However, his legacy at the club will be the lobbying with government and corporate partners to turn the club's dreams into a reality.
Inspired by visits to the New York Jets, New York Giants, LA Dodgers and Atlanta Braves facilities in the United States, the center of excellence takes into consideration all aspects of the business.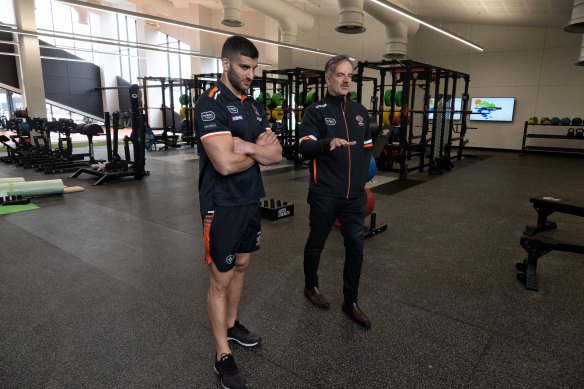 The Tigers have been the nomads of the NRL, shifting home grounds and training bases throughout the joint venture's existence.
They've traditionally spent more time at training than other teams given how much time they spend on the road between different sessions.
"We've been in and around different places, training in Leichhardt, training in Concord, training in Campbelltown," prop Alex Twal said.
"To have one ground where it's a one-stop shop where we can do all our things from here, it's going to be a massive boost for the players, especially for us players who have been here quite a few years.
"It's been a long time coming. It's going to be a really good thing for the club. We've never had something like this at the club. There's a lot of exciting times ahead."
The club has long been using images and simulated footage to show prospective players and coaches the new facility.
They took Cameron Ciraldo through the facility when they tried to lure him to the club, and also showed Isaiah Papali'i around when he first started to get cold feet.
"I think it will definitely increase our recruitment," Twal said.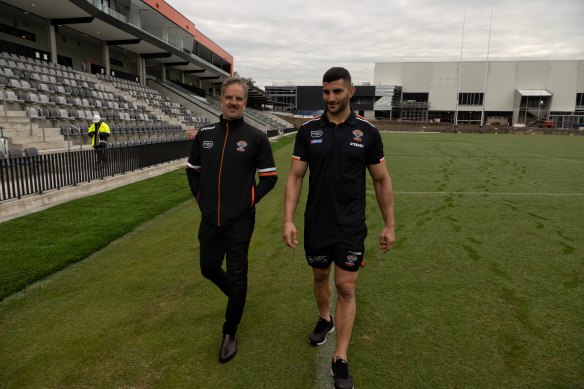 "When you're coming in to a new club and you see these sorts of facilities and opportunities to work around this space, I think it's definitely going to be something that people and players look forward to.
"It means so much to the players. It's only going to be a positive for the club going forward, and the team."