During the third installation of Ru Paul's Drag Race Down Underwe had to say goodbye to iconic queen Pomara Fifth.
While Pomara's epic runway style was without a doubt a showstopper in Episode 3, her on-stage brunch roast alongside fellow queen Beverly Kills didn't impress the judges as much as she had hoped.
Following a fierce Lip Sync For Your Life against each other, Pomara was sadly sent packing while Beverly was told to join the other queens.
All seasons of the RuPaul's Drag Race franchise are available to stream now on Stan.
In an exclusive interview with 9Entertainment, Pomara discussed her exit and how it felt to be one of 10 queens flying the flag Down Under – before offering a cryptic response when asked about the rumored rift that's been whispered about since launch night…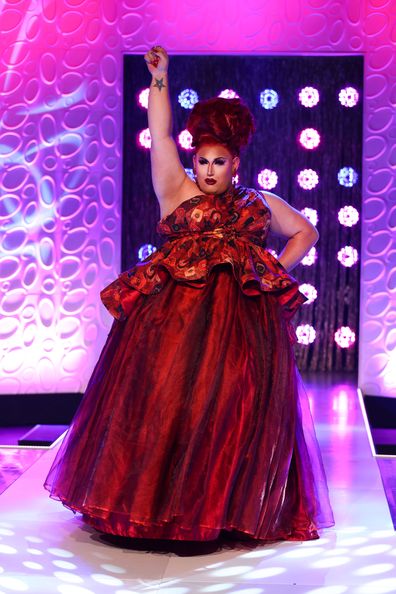 How does it feel to have been eliminated?
Not great, but at the same time I went into the show with two my goals; to get on the show, and to not go home first. I completed all my goals. I said to the girls when I was in there that I'm just going along and doing my thing and taking in the experience, rather than worrying about the competition and stressing about that.
READMORE: Here's everything you need to know about the fierce and fabulous queens on RuPaul's Drag Race Down Under Season 2
When week three came along, I was starting to get a bit homeick. I had never really seen drag racing before, I had only seen, like, two seasons of it. So I think I was feeling a little bit behind… there was that moment, but at the same time I'm eternally grateful that I was one out of 10 picked out of all of Australia and New Zealand.
It doesn't matter where you get, I got on the bloody show!
Do you think being partnered with Beverly Kills in the challenge hindered your chance in the competition?
Umm…yeah! I have a very unique comedic style, and I think being partnered with someone who I could really, truly bounce off would have obviously been great. Beverly was not really known for her comedy style, and she's not really a comedy queen so I think there were those issues. At the same time, it is what it is. It's not going to be a competition if it's not hard. We just worked together as best we could, but safe to say… she's not funny!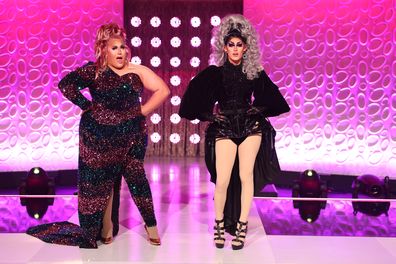 What do you think let you down in the end?
You could not tell me s–t on that runway! I felt so good, I felt so f–king pretty and if I'm going to go out, I'm going to go out in one of my favorite outfits and still look like a million bucks on that runway. It was definitely the roast that let me down, and I think I got too much in my head about it. I was just trying to enjoy my experience, to be honest.
I've said previously, if this was my brunch, an actual brunch in Australia, this is probably not how it would go.
Is there anything you would do differently?
I'd probably go back and reword my skit. I know there was this whole [thing of] Beverly blaming me for trying to take over the whole skit. Which, I mean…yeah! I definitely would try and take over a little bit more.
I know that sounds bad, but I gave up I think, and just said, "We'll keep your bits in." I think rather than doing that, I would have really gone in hard and stuck to my strengths and been like, "This is what I know will work." At the end of the day, no hard feelings. I love all my girls, I love Beverly. I went as far as what RuPaul would allow me.
Is there a queen group chat?
And it is! It's definitely salacious. We talk about anything and everything every week. If we encounter problems through the day, whatever ticks us off, if someone needs help. Everything we see on the internet about us, we just send a picture to the whole group and have a giggle about it. It's really fun. We all keep each other really grounded, and really try to enjoy this experience together.
Is there anyone you think this week that should have gone home instead of you?
That is a shady question! Shady. Look… yes. I think by saying, I have more to give… my aim to get on the show was to get a positive message out. I really was like, how do I share my experience and what I've been through in my life with other people and let them know it's going to be OK, and that life is worth living. What better show than drag racing?
I hope I got as much of a positive message out there that I possibly could. I don't think I should have gone home, but you just deal with the cards you're dealing with, I guess. I'll leave it up to the fans to decide who should have gone home!
On launch night, Minnie Cooper said live on-stage that there was a rift between some of the queens. Are you part of that?
[After a brief silence] …Let's just say, that all nine of us get along like a house on fire.
READMORE: Faúx Fúr claims she was 'sabotaged' by her fellow queens amid 'black panty gate'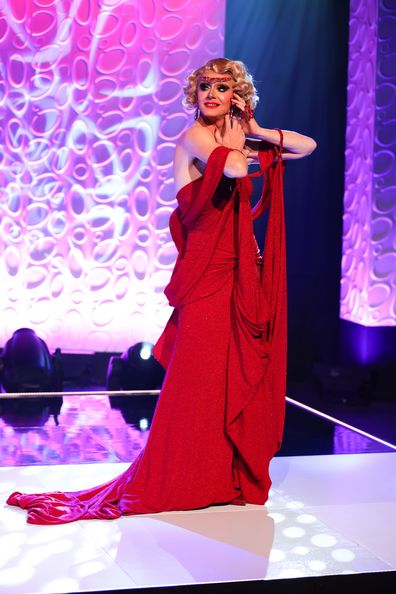 What was it like to meet Drag Race royalty, Michelle Visage, RuPaul and Rhys Nicholson?
I almost wet my pants. You get to meet RuPaul, and that was like holy f–k. My first thought was, holy c–p you are that tall! Just stunning up close, beautiful. Then as you do your runway, and you don't get to see anyone until the moment you step out on that runway and walk towards them. Or as I did, gallop towards them. Even watching myself I was like, "Slow down! Why are you walking so fast!" You get so excited, and the music is playing so loud that you're just like – charge.
You just see the beautiful people sitting in front of you… and I can confirm, that there are no filters. I was thinking, surely not – surely not, that they're not that pretty! But I was right up close to them, right up front and they're beautiful. All of them.
All seasons of the RuPaul's Drag Race franchise are available to stream now on Stan.
In Pictures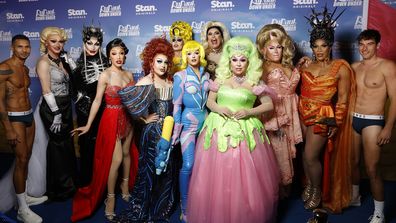 Queens hit the blue carpet at the Drag Race Down Under Season 2 premiere
Big hair, bold looks and plenty of glamour.
ViewGallery
Nine Entertainment Co (the publisher of this website) owns and operates the streaming service Stan.