The head of all-girls St Clare's College has been appointed the new principal of one of Sydney's oldest all-boys schools as it prepares to become fully co-educational.
Kerrie McDiarmid will take on the role as head of St Mary's Cathedral College, the historic inner-city boys' school, which is set to expand into a kindergarten to year 12 co-ed campus after more than a century of single-sex education.
She will be the first woman to head the college – the oldest of 150 Catholic schools in the Sydney Archdiocese – which is the alma mater of Prime Minister Anthony Albanese who campaigned there in the week before the election with Sydney's Catholic Archbishop Anthony Fisher.
"Having boys and girls together at a school with such a long history is a real opportunity to help prepare them for the world after they graduate," McDiarmid said.
The proposal to shift the school, which was established in 1824 and run by three different religious orders until 2016, to become co-ed was put to parents in June. If given the green light, it will expand into a kindergarten to year 12 co-ed school with a second city campus nearby and capacity to double enrollments to up to 1400 students.
St Mary's is part of a wave of Sydney all-boys schools converting to co-ed: Cranbrook, which has admitted only boys for more than a century, will be co-educational from years 7 to 12. Newington, another high-fee private boys school, put a co-ed proposal to parents earlier this year. Barker and The Armidale School became co-ed in the past decade.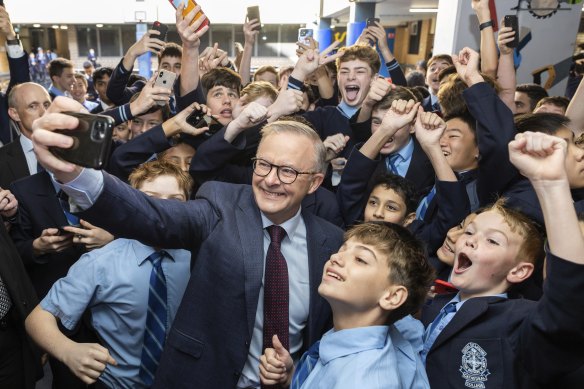 "I don't see all schools going down the co-ed path, but it makes absolute sense for this school. There is demand for that in the [inner-city] and there has been a definite movement towards co-ed experience. We want to produce well-rounded students who have the skills and perspectives, like respect, co-operation and initiative, that allow them to flourish at school and after they leave," McDiarmid said.
St Mary's, which charges $5,189 for year 12, would be the fifth new co-ed school created under Sydney Catholic Schools in the past 10 years. A proposal to overhaul De La Salle Senior College in Cronulla into a year 7 to 12 co-ed school is with parents for consultation, while De La Salle in Ashfield is set to merge with an adjacent girls' school, Bethlehem College.