It's been a massive first week on The Block with teams racing to finish their main bathroom in time for the first Room Reveal of the season.
And the stakes are higher than ever, with the biggest prize in block history up for grabs for the winning team.
Stream the latest episodes of The Block for free on 9Now.
The 'tools down' deadline is looming, and with 15 hours to go drama unfolds in House 3 after Foremen Keith and Dan call Ankur and Sharon's tiling a disgrace.
"The tile quality's a bit off and we feel the design's not quite right either," Dan says, before Keith calls it "disgusting."
After hearing that Sharon feels defeated and admits she doesn't think they have a winning bathroom.
Over in House 1 Tom and Sarah-Jane are frantically trying to get a plasterer on-site after Keith and Dan tell the couple they should re-do the plaster and painting in the room during a routine defect inspection.
With defects addressed and finishing the touches on the main bathroom complete, the teams head to the block headquarters to hear host Scott Cam deliver the judges' feedback.
Tom and Sarah-Jane
"Wow" is the first thing Neale says when he walks into Tom and Sarah-Jane's main bathroom.
"This is quite a debut. This is a pretty stunning welcome to The Block," he adds.
Darren is blown away by the ceiling rose and height, and is particularly impressed with their nod to the home's history by restoring a chandelier they found in the house.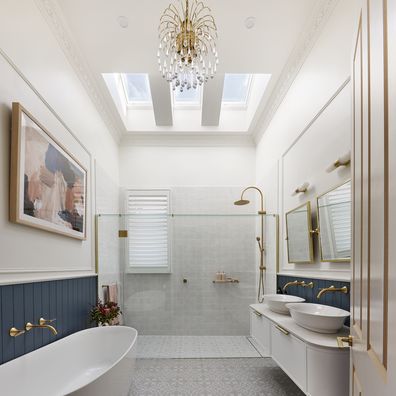 Shaynna points out their use of bold color statements, which she's a fan of.
"In this environment I want to see bold colors, because there's a lot to work with, there's a lot of natural light and it can take it," she says.
While she calls it a functional and well-thought-out bathroom, Darren points out the lack of storage.
Overall, the judges are impressed by the look and feel of the room with Neale calling it "contemporary" but "appropriate" for the location.
See their full room and judges' comments in the gallery below:
In Pictures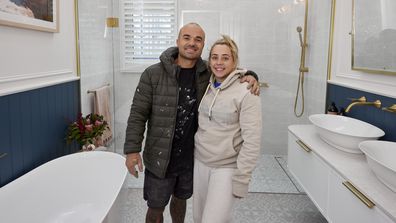 Tom and Sarah-Jane's Main Bathroom
"Stunning debut" with bold pops of colour.
ViewGallery
Rachel and Ryan
The judges first notice how "massive" the bathroom is and they appreciate how Rachel and Ryan turned their bathroom around in a few days. But Shaynna and Neale think it's not appropriate for the country setting.
"To me it doesn't speak to country at all, it feels like a very urban bathroom. But that's not a major problem to me at this early stage," Neale points out.
However Darren disagrees and says it "fits the brief" in his opinion.
See their full room and judges' comments in the gallery below:
In Pictures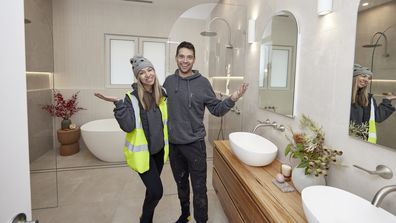 Rachel and Ryan's Main Bathroom
Judges praise room but voice two concerns.
ViewGallery
Ankur and Sharon
There's mixed feelings from the judges as they step into Ankur and Sharon's bathroom.
The room is a complete surprise to Shaynna, who seems rather annoyed by its lack of heritage.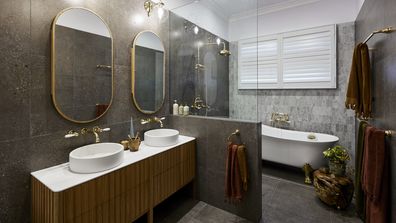 "I've come into a blue-stone bathroom that we've seen many times in a contemporary environment," she says.
"Just because you add that type of tap and bath, it doesn't make it feel heritage at all. If any house could get me angry, it's doing this to that beautiful house we've walked through."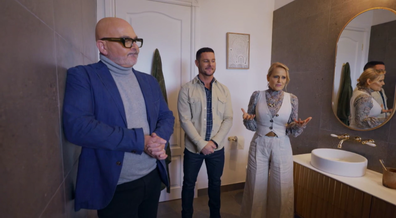 As she makes her way around the room, she only gets more frustrated as she notices elements that don't match the traditional home.
"Are you going to treat her like this? Because if you're going to treat her like this, you're going to have to deal with me," she smokes.
Neale finds the space to be very theatrical, while Darren is a fan of the "moody, sultry feeling" in there.
However Darren has two substantial issues with the room – the wall tiles and nib wall – which he describes as "too expensive" to change.
Despite some negative feedback, the judges have high praise for the quality of the finishes, the overall cleanliness of the room and the execution.
See their full room and judges' comments in the gallery below:
In Pictures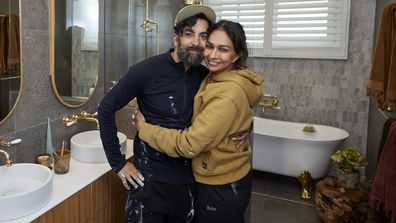 Ankur and Sharon's Main Bathroom
"I don't feel good in here."
ViewGallery
Dylan and Jenny
The judges instantly fall in love with Dylan and Jenny's main bathroom. They all agree that it feels and looks very fresh, vast, and welcoming.
"It still feels contemporary but it feels respectful to the heritage of the house," Neale says.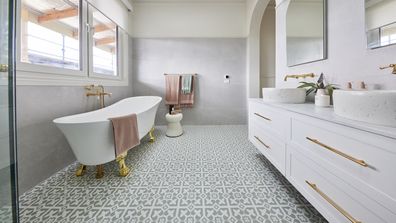 Darren is particularly impressed by the arches and the cornices in the room.
"It's really lovely repetition, they give you a sense of rhythm. It's really important to be fundamental and they've just nailed that," he says.
Shaynna calls the attention to detail and execution "almost perfect".
The only thing the judges didn't like was the length of the shower screen because it is shorter than the tile line.
See their full room and judges' comments in the gallery below:
In Pictures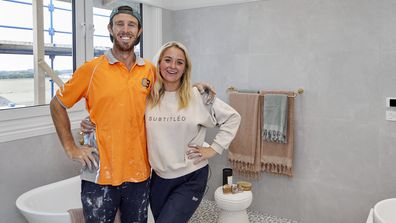 Dylan and Jenny's Main Bathroom
One detail leaves Shaynna Blaze unimpressed.
ViewGallery
Omar and Oz
The judges are instantly surprised when they walk into Omar and Oz's bathroom.
"You beauty," Neale says.
Shaynna can't believe that this room is Omar and Oz's after what they saw from their Challenge Room.
"This is all neutral, all textures… traditional, contemporary. This is that palette done exactly how it should be done," she says.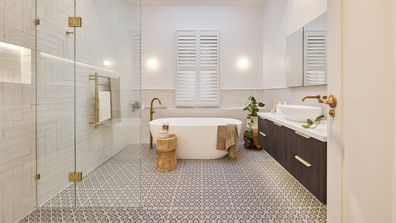 Neale also loves the room.
"What's blowing me away is that these are all elements that shouldn't work together but they do," he says.
"The way they've used these tiles to create this stunning 90-degree herringbone effect and put it with this decorative tile on the floor, it's beautiful and it works."
Darren agrees and loves the scale and layout of the wall and how everything flows so well.
The judges believe the boys have run with their advice and presented something "quite exquisite".
Shaynna, Darren and Neale feel like they are standing in a "pretty perfect" bathroom until they notice product stickers still left on some of the windows and the toilet. But overall, they are "very impressed" with the quality of the room Omar and Oz present.
See their full room and judges' comments in the gallery below:
In Pictures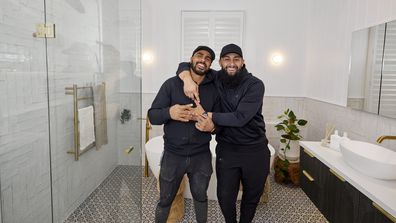 Omar and Oz's Main Bathroom
Judges wowed by the "beautiful" room's features.
ViewGallery
Main Bathroom scores
Back at HQ, Scotty tallies up the judges' scores, revealing a surprise result.
Tom and Sarah-Jane: 25.5
Rachel and Ryan: 23.5
Ankur and Sharon: 20.5
Dylan and Jenny: 25.5
Omar and Oz: 26
Omar and Oz are the winners, which is quite the turnaround after coming last in the House Decider challenge. They took home $10,000 from Ford and a $250,000 kitchen upgrade from Winning Appliances.
While Omar and Oz are celebrating their victory, the judges' feedback has Sharon in tears.
"It just feels like I got it completely wrong, again. I'm over it and it's week one," she says.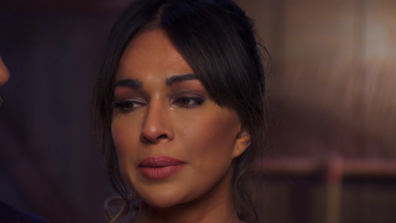 Ankur and Sharon have the chance to turn things around, with the Guest Bedroom the next space to complete.
The Block airs Sunday at 7.00pm and Monday to Wednesday at 7.30pm on Nine. Catch up on all the latest episodes on 9Now.