After the shock of Joel and Elle quitting and the arrival of replacement team Rachel and Ryan, our Blockheads look forward and launch into the biggest Bathroom Week in Block history.
Why is it the biggest? Because the winner will walk away with an eye-watering $250,000 bonus prize.
Stream the latest episodes of The Block for free on 9Now.
Tom, who is conveniently a plumber, adds up the pressure to win Bathroom Week.
"If you win this week, you're gonna win $10,000 for the week, plus $250,000 for the kitchen, plus $10,000 again because you're probably gonna win Kitchen Week," he explains.
With so much at stake, Ankur and Sharon want to make sure that it's fair play.
And so too does Foreman Keith. He is on Ankur and Sharon's case about the amount of trade cars they have on their site blocking important access points.
Ankur tells the cameras about Foreman Keith's stern warning to them. "He said, 'Mate, you've got too many trade cars up at your sight. You will be shut down if you don't get rid of them.'"
While Ankur and Sharon spend lots of time rectifying their mistake and doing things by the book, it comes to their attention that Omar and Oz have trade cars parked all around their site too.
"I don't think everyone's doing the right thing because as you can see next door – not to dob them in – they've still got all their utes and stuff there," Sharon spills to the cameras.
Ankur goes a step further and makes a point of it to Foreman Keith.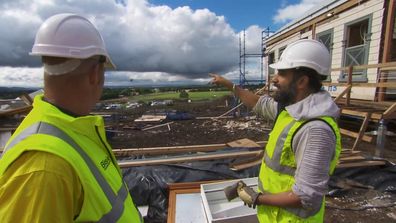 "Not to be a dibber dobber by any sense, but just for fairness, House 5 is the same," Ankur tells Keith.
"I sound like a dibber dobber but I'm not," Ankur adds.
It sounds a bit like dobbing to us.
Foreman Keith agrees that House 5 "is out of control" and makes his way over to Omar and Oz.
"Now, I remember this morning telling you to remove the vehicles," Keith reminds the boys.
"We have rules on The Block for a reason. So lads you haven't listened to me and you're going to learn, we're going to have an hour off," Keith says, shutting down Omar and Oz's site.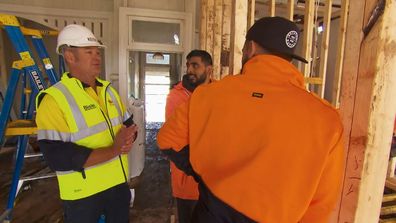 Omar and Oz agree that they should've just listened in the first place but they're privy to the fact that Ankur and Sharon dobbed them in.
The husband and wife hope their tattle tailing ways haven't landed them in hot water with the other team. Like Sharon says, "Snitches get stitches."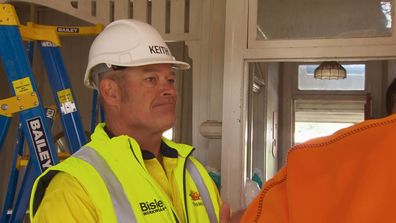 The boys take the shutdown in their stride, but are annoyed when Ankur and Sharon deny snitching on them.
Even though it's only an hour, the shutdown sets Omar and Oz back in a big way. They're unable to finish their floor or walls and won't make Waterproof Wednesday.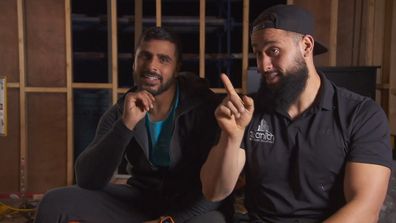 Elsewhere on The BlockDylan and Jenny have their hearts set on a raked ceiling. They call on Foremen Keith and Dan to approve their plans and their exact words are "We'll see what we can do."
Dylan and Jenny take it as a green light of sorts and decide to get started on their unapproved plans to save time.
Their plan to get ahead backfires when their raked ceiling doesn't get the tick of approval from Keith and Dan, leaving them to spend hours worth of work.
Tom and Sarah-Jane also suffer a setback as the horrible windy and wet weather holds up their plastering, plumbing and electric work for eight hours.
But most importantly, the rain is also getting in the way of Sarah-Jane's beauty sleep. And while husband Tom loves the outdoors, Sarah-Jane is less accustomed to sleeping in a tent.
Tom saves the day by getting his wife a caravan. While it's definitely a step up from the tent they were sleeping in, it turns out the caravan isn't waterproof.
New kids on The Block Rachel and Ryan consider themselves bathroom experts and are so far ahead they're confident that they can bag the $250,000 prize.
But their dream run comes to an end when they have to decide between their show-stopping design or finishing their bathroom.
In the end Foreman Keith says "the entire group is behind the eight ball", with none of the five teams ready for Waterproof Wednesday.
It's not the start to The Block's biggest Bathroom Week that the teams had in mind. Time will tell if they can finish their rooms.
In Pictures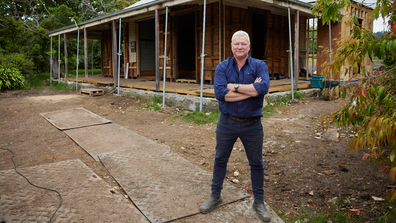 Scotty's house renovation so far
Sneak peek at the first three rooms.
ViewGallery
The Block airs Sunday at 7.00pm and Monday to Wednesday at 7.30pm on Nine. Catch up on all the latest episodes on 9Now.